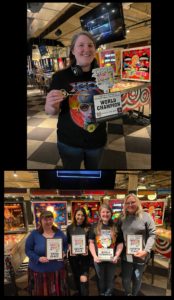 This past weekend, the IFPA Women's Advisory Board and a team of volunteers worked together to put on the inaugural standalone Women's World Championship. 32 of the top women competitors based on both open and women's-only standings and hailing from all over the world came together in Schaumburg, Illinois, to compete across two days and crown a new Women's World Pinball Champion. After a full day of qualifying that consisted of 4-player groups competing for 8 rounds of 3-game matches, the top 16 moved on to a head-to-head single-elimination best-of-7 bracket.
A huge congratulations to Keri Wing from Kansas, who won her second championship and the title of 2023 IFPA Women's World Pinball Champion. She played phenomenally all weekend, qualifying as 3rd seed and receiving 2 byes going into Sunday's head-to-head matches. She went on to knock out fellow former Women's World Pinball Champions Karyn Kiser and Sunshine Bon, ending with an exciting finals match against Leslie Ruckman, who is currently based in California.
The highest-placing finisher also wins a spot at the IFPA18 World Pinball Championship, as well as a reserved spot at the European Pinball Championship, with both events taking place over back-to-back weekends in Germany later this year. With Keri having already accepted an invitation to those events due to her world ranking, Leslie can instead claim those spots.
Sunshine Bon and Kaylee Campbell rounded out the top 4 by taking 3rd and 4th place, respectively, after incredibly strong play throughout the championship. Congrats to the top 4, and thank you to all the competitors who helped make the event a success.
None of this would have been possible without the tireless efforts of Michael Benjamin and his team at Enterrium, the Chicago pinball community (especially Erin Seiden of Chicagoland Belles & Chimes and Rachel Karlic of Chicago Belles & Chimes), Andy Bagwell (our intrepid assistant TD), and our two tireless techs Gavin Miller (Gavin's Games) and Brad Smith (Bound by Gravity Pinball), who not only brought in their own personal machines but dedicated their weekends to be there all day Saturday and Sunday. We were proud for this weekend to be broadcasted live by none other than the strong group of ladies at Hot Nudge and their team, and we want to extend a big thank you to Jack Danger of Dead Flip for donating his streaming equipment for the weekend. We also appreciate our sponsors, whose contributions led to a prize pool valued at over $11,000.
We look forward to next year's event! More information on dates and location will be coming soon.