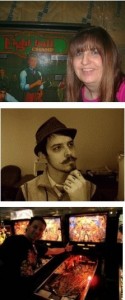 The IFPA is pleased to announce that the following players saw the biggest jump in their world ranking based on their August 2012 tournament performance. With the recent launch of the $tern Rewards Program, we will now only be listing those players that have their IFPA profile filled out and are eligible to qualify for the program.
The biggest movers for August 2012 included [player]Jennifer Hamilton[/player] from the US, who moved up 3662 spots from her 45th place in the 80s division, 56th place in the 90s division and 49th place in the 00s division at the International Pinball Wizard Challenge tournament. This netted her 2.23 WPPR points, which now puts her at a rank of 3291 in the world.
[player]Jack Danger[/player] from the US moved up 2913 spots from his August tournament performance. Jack first competed in the PAPA 15 World Pinball Championships, competing in the Classics II (105th place) and Classics III (19th place) divisions, earning himself 4.20 WPPR points. Back in Chicago, Jack then competed in the Stern Pinball Launch Party Tournament for X-Men, and finished in 27th place, earning him .45 WPPR points. In total, Jack earned 4.65 WPPR points, which now puts him at a rank of 2209 in the world.
[player]Tom Collins[/player] from the US moved up 1416 spots from his 9th place finish in the latest season of the Capital Corridor Pinball League. This earned Tom .71 WPPR points and boosted him into now being the 4459th ranked players in the world.
Congratulations to Jennifer, Jack and Tom as well as the other players that saw a jump in their ranking from their June tournament performance!