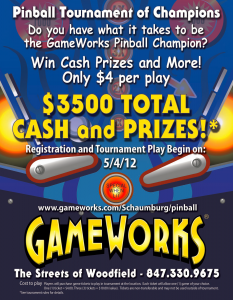 The IFPA is proud to announce it will be teaming up with GameWorks
once again for the 8th Chicago Pinball Tournament of Champions the
weekend of May 4th-6th at the Schaumburg location (Streets of
Woodfield).
We would normally be announcing a $2000 prize pool, but this edition
of the tournament is the 2nd tournament included on the 2012 PAPA
Circuit. With that comes an increase of the prize pool to $3500!!
SCHEDULE OF EVENTS:
Fri 5/4: 6-11pm –> OPEN QUALIFYING
Sat 5/5: noon to 11pm –> OPEN QUALIFYING
Sun 5/6: 10am-12pm –> LAST CHANCE OPEN QUALIFYING
Sun 5/6: noon – 5pm –> TOURNAMENT FINALS AND AWARDS
OPEN QUALIFYING:
Players will qualify on the (4) four pinball machines that are chosen
for this tournament. Players do not have to play all four if they feel
their point total will get them into the top (16) sixteen players on
Sunday. Points will distributed 100/90/85/84/83/etc. depending on
finishing position for each game.
TOURNAMENT GAMES (subject to change):
AC/DC Pro, Tron, Ironman, Transformers
COST OF PLAY:
Players will purchase game tickets to play in the tournament at the
tournament location.
Each ticket will let you play (1) one game of your choice.
1 Ticket = $4.00
3 Tickets = $10.00 (value price)
** Tickets are Non-Transferable, and may not be used outside of
Tournament **
Ticket sales will stop approximately 45 minutes before the end of Open
Tournament Play on Sunday to ensure all players holding tickets will
have time to use them in the tournament.
PRIZES:
1st place – $1000
2nd place – $600
3rd place – $400
4th place – $300
5th through 8th place – $150each
9th through12th place – $100each
13th through 16th place – $50 each
TOURNAMENT FINALS:
Finals will consist of a head-to-head best 2 out of 3 single
elimination tournament. Players seeded 5th through 8th will receive a
bye through the first round, while players seeded 1st through 4th will
receive a bye through the first two rounds. Players seeded 9th through
16th will play in the first round, with those winners advancing to
play against those players seeded 5th through 8th. Higher seed gets
choice of game or position for the first game. Loser of each
subsequent game gets choose of game or position. You cannot play the
same game twice in the same match.