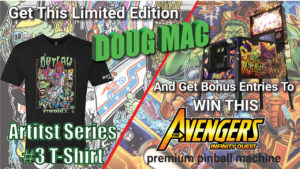 sponsored blog post
Our featured artist is Doug MacDonald.
Click Here for complete details.
There will be only 1 printing of this shirt and then it will be archived. This Limited Edition Artist Series #3 ends at 11:59 PM EST on Friday, August 26th.
BONUS: Pick up any Outlaw Pinball Bundle and we will throw in this Doug MacDonald original for free – get yours now.