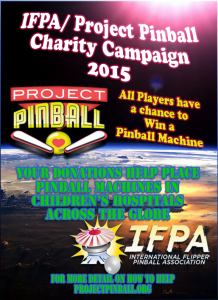 blog post courtesy of Daniel Spolar
Following the success of last year IFPA/ Project Pinball Charity Campaign fundraiser which raised over $23,000, the IFPA is proud to announce that we are teaming up with Project Pinball to help raise funds for their charity again this year. This IFPA/ Project Pinball Charity Campaign 2015 will not be limited to one month but run the entire year.
The IFPA plans on treating each of these Project Pinball tournaments as a unique event with the point allotment change this year. Each of these tournaments could be worth full value WPPR points decided by the tournament input information as what would be similar to the tournaments you are entering to our site now. Go to the "submit to the IFPA Calendar" link here: http://www.ifpapinball.com/calendar/submit.php, if you're interested in setting up an event and we'll work with you on getting it added to the IFPA calendar. We hope to set up events nationwide and use competitive pinball as a way to help raise funds for this great charity. The tournament must be scheduled 30 days before the tournament is to be held to qualify.
Below is the announcement from Daniel Spolar of the Project Pinball Charity:
After the success of the IFPA/ Project Pinball Charity July Campaign 2014 and the huge support that we received from the pinball community, we are returning with a bigger and better offering for our tournament players. The IFPA and Project Pinball Charity is introducing its new campaign that is not limited to just a single month but will run the entire year. The IFPA/ Project Pinball Charity Campaign 2015 will be a year long tournament fundraiser event. Plus, we are now offering a chance to win a brand new pinball machine of the winner's choice for its grand prize as well as other super prizes to be won.
We are looking for people, organizers, tournament directors and players willing to get involve make this Charity Campaign come alive and so we can give to the Children's Hospitals a special gift from all of us!
Organizers and Tournament Directors get your tournaments and dates ready to be included in this charity offering for your tournament players. We will be offering this Pinball Machine Sweepstakes and many other prizes and awards to be used for your tournaments. We will have the full details and requirements at http://www.projectpinball.org/organize-an-event. You will be able register your tournament on that page so we can add your tournament to our list and offer you our full support to you and your players.
We have been working with the IFPA and have greatly appreciated their help, guidance and insight with the new WPPR point changes and their assistance to bring this to the pinball community. The IFPA will allow WPPR points to given to those participating in this charity drive to help entice players to attend. The IFPA points will be determined by Tournament Director's information submitted as they would for a regular tournament. No extra WPPR point value will be offered just because this is a charity tournament as it was in the past, but hey, you can win a pinball machine and still help people!
Quick Details:
Each pinball tournament that is held as an IFPA/ Project Pinball Charity Campaign Tournament (and meets the requirements) will be eligible to receive entries to the Pinball Machine Sweepstakes for a chance to win the grand prize- a pinball machine and many other awesome prizes. The only way to enter this exclusive Pinball Machine Sweepstakes will be limited to these tournament offerings, no person can buy into this offering directly.
There will be 4 Pinball Machine Sweepstakes entries allotted to each charity tournament. 3 entries will be earned by players for their high final rankings and 1 entry given randomly by drawing a player's name that did not earn an entry by final ranking. So every player has a chance to win even if you finish in last place.
This fundraiser campaign will be kicking off on March 12, 2015 at PAPA Headquarters during PAPA 18 and continue running until January 31, 2016 with the help from our friends at the International Flipper Pinball Association.
The Long Version:
A lot more of the details, clarifications, requirements, limitations and rules will be posted Thursday 5, 2015 at 10:00 pm est at http://www.projectpinball.org/organize-an-event
Let's make this IFPA/ Project Pinball Charity Campaign 2015 a huge success so we can continue to give the patients, kids, parents, doctors and nurses that could use our special help by providing a pinball machine for their enjoyment.
We are a registered 501(c)3 Nonprofit Organization 46-3417202. For more information on Project Pinball Charity go to our home page http://ProjectPinball.org or we can be contacted at ProjectPinballCharity@gmail.com