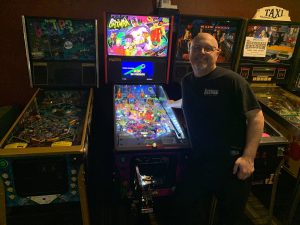 Bruce Nightingale out of Rochester, NY finished 2018 being ranked 599th in the world. This qualified him for the $tern Rewards Program for finishing the year ranked in the top 1000. The rewards program allows qualifiers to purchase a brand new Stern pinball machine at a special IFPA price. Bruce redeemed his reward for a Batman 66 Premium.
So far in 2019, Bruce has participated in 4 IFPA sanctioned events and remains in the top 1000 ranked players in the world (ranked 688th currently).
Congratulations to Bruce, and remember if you're interested in qualifying for the $tern Rewards Program, check out the rules here.