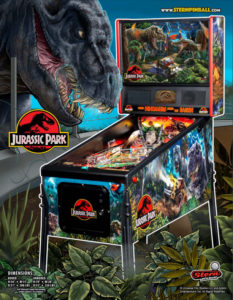 The IFPA is excited to announce that Stern has added Jurassic Park Pin to the rewards program!
Detailed rules for the Stern Rewards Program, including an updated list of qualifiers (including those who finished in the top 1000 in the World Pinball Players Rankings for the 2021 season), and updated list of rewards available can be found HERE.
Due to Stern's production backlog, the Stern Rewards Program is currently on allocation for the 2022 calendar year.
Here is the current list of what's available as of this moment. We will do our best to update the rewards website as often as possible.
Avengers Pro (ETA – Mar 2022 – 4 left)
Deadpool Premium (TBD 2023)
Deadpool Pro (TBD 2023)
Jurassic Park Pin (ETA – Nov 2022 – 7 left)
Jurassic Park Premium (TBD 2023)
Jurassic Park Pro (TBD 2023)
Star Wars Premium (ETA – Aug 2022 – 7 left)
Star Wars Pro (ETA – Aug 2022 – 5 left)
Star Wars Pin (ETA – Nov 2022 – 7 left)
Star Wars Comic Pin (ETA – Nov 2022 – 7 left)
Teenage Mutant Ninja Turtles Pro (ETA – Dec 2022 – 7 left)
Teenage Mutant Ninja Turtles Premium (ETA – Dec 2022 – 7 left)