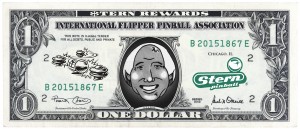 Stern Pinball, Inc. (SPI), the world's only maker of real pinball games, in cooperation with the International Flipper Pinball Association (IFPA), today announced the first player rewards program in pinball history. The program will reward dedicated players by providing them with the opportunity to use their rewards to purchase new SPI Premium games at IFPA prices.
The $tern Rewards Program will leverage the IFPA's World Pinball Player Rankings system to enable players to qualify for the program. For calendar 2012, players that qualify will have the opportunity to redeem their rewards until August 15, 2013.
Each month the player who has earned the most World Pinball Player Ranking points in the past 30 days will be designated as the IFPA "Player of the Month" and qualify for the rewards program. In addition, each month, the three players who move up the most in the rankings will qualify for the rewards program. Finally, at the end of 2012, the top 250 ranked players will qualify for the rewards prorgam.
For more information on the $tern Rewards Program, please click HERE.
"We're excited to partner with the IFPA and have the opportunity to reward the players that have kept pinball enthusiasm alive and thriving throughout the years," said Gary Stern, founder, CEO and Chairman of Stern Pinball.
"We're very excited about the potential for this program and the opportunity to work with Stern to provide both competitive and casual players with even more incentives to play one of the world's greatest games," said Josh Sharpe, President of the IFPA.