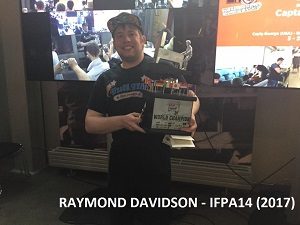 64 of the World's greatest players traveled from 20 countries to compete in the 14th Annual International Flipper Pinball Association's World Pinball Championship out in Copenhagen, Denmark. After nearly 3 days of the most intense competitive pinball experience the world has to offer, there could only be one World Pinball Champion.
After defeating Nicklas Lindahl from Sweden (4-1), Daniele Acciari from Italy (4-1) and Jason Werdrick from the USA (4-0), Raymond went on to defeat Cayle George from the USA (5-4) to become the new World Pinball Champion. Mats Runsten defeated Jason Werdrick for 3rd place.
This is Raymond's first Major Championship, making him the 28th player in competitive pinball history to do so.