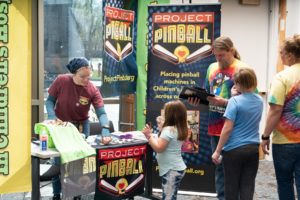 Last weekend, the On-Site Team at Project Pinball Charity traveled to Carmel, IN, to attend the 2022 Carmel Film Forum for the Big Picture Pinball Show hosted by James Moriarty at the Carmel Clay Public Library. The new "Meet Project Pinball" Documentary by Imoto Harney was viewed for the very first time!
If you don't know, Imoto filmed the Project Pinball Team back in 2018 and 2019, along with many families and children from the hospitals we had dedications at during those years. Since then, Imoto has been editing & producing what is now the "Meet Project Pinball" Documentary short film. Now in 2022, the team is very excited to see the project come to fruition! This documentary was an emotional one for everyone involved. So many team members & families shared their stories with Imoto, and heartache always comes with the territory. This Documentary is not only an introduction to who Project Pinball is, but also why we are so committed to our mission.
To welcome the "Meet Project Pinball" Documentary, we wanted to share it with the pinball community. To watch the "Meet Project Pinball" Documentary by Imoto Harney (Arcade) visit Marco Specialties YouTube Channel "Marco Pinball" with this link: 
https://www.youtube.com/watch?app=desktop&v=7zehqPSvlWk
After the premiere of the Documentary, Marco Pinball live-streamed the interview of Project Pinball Charity Senior Founder/Director Daniel Spolar and "Meet Project Pinball" Documentary Creator Imoto Harney (Imoto Arcade). The interview was conducted by Special Guest Host Zan Aufderheide, a comedian and charity auctioneer who helps nonprofits across the country. Also featured in the interview is our Technician Coordinator Brad Czernik and Marketing and Communications Specialist Taj Kniceley. We loved sharing the depth of our story with the Carmel community and viewers on livestream. Reflecting how far Project Pinball has come since we started in 2011 was truly amazing, and we are thankful we got the opportunity to share.
Thank you to everyone who was involved in the making and creation of the documentary! We can't express enough how much hearing your experiences meant to us. Now, relax and watch the Documentary now! Grab some tissues first, though. You'll need them.
Check out Imoto's Facebook Page and learn about all her projects:
https://www.facebook.com/imotoarcade/
Be a part of James Moriarty's future Feature Film "Skill Shot, Baby! A Pinball Epiphany" with the link below: