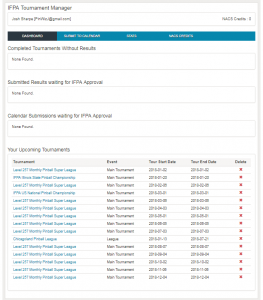 The IFPA is excited to announce the launch of the IFPA Tournament Manager for tournament and league organizers.
The IFPA Tournament Manager will be a one-stop-shop for everything an IFPA organizer needs. Once you create an account (done HERE), you'll be able to submit to the IFPA calendar, submit results, check the current status of those submissions, follow your NACS balance (for North American organizers) and even have some stats available about the tournaments and leagues you have organized.
For any tournament/league organizers that have outstanding results, you will have to create an IFPA Tournament Manager account to submit those results. The 'old way' of submitting through the website has been retired.