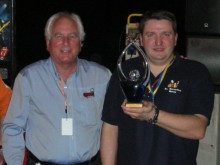 The IFPA is pleased to announce that our Player of the Month for May 2013 is [player]Franck Bona[/player] from France. Franck earned 91.87 WPPR points in May, including a victory at the Tilt-Up Warehouse tournament. In addition, Franck had a top 10 finish in both the LNJF League and the Rodenbach Pre-IFPA Tournament.
The rest of the top 5 for the month of May included [player]Jan Anders Nilsson[/player] from Sweden with 85.48 WPPR points, [player]Trent Augenstein[/player] from Delaware, OH with 65.39 WPPR points, [player]David Grémillet[/player] from France with 64.12 WPPR points, and [player]Zach Sharpe[/player] from Chicago, IL with 63.73 WPPR points.
Congratulations to Franck and the other top WPPR point earners of the month!