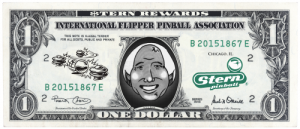 The IFPA is excited to announce that the following players have been now qualified for the $tern Rewards Program based on their June 2013 IFPA endorsed tournament performance! These players have until August 15th, 2014 to exercise their reward option.
PLAYER OF THE MONTH – [player]Jörgen Holm[/player]
Jörgen Holm earned 197.05 WPPR points in June, 130.66 of which were from his victory at the IFPA10 World Pinball Championship and 3rd place finish in the Charity Challenge. In addition, Jörgen finished in 3rd place in the Main tournament of the Stockholm Open, as well as winning the Classics division.
BIGGEST MOVER AWARD – [player]Tim Kerro[/player]
Tim moved up 5486 spots from his 38th, 41st and 31st place finishes at the 2013 Pittsburgh Pinball Open Main, Classics I and Classics II tournaments respectively. Tim earned 2.83 WPPR points from this performance, which has moved him up to a rank of 4126th in the world.
BIGGEST MOVER AWARD – [player]Helmut Langenbruch[/player]
Helmut moved up 5146 spots by earning .46 WPPR points from his 38th place finish at the UK Pinball Cup, as well as .24 WPPR points from his 16th place finish at the June meeting of the Special When Lit League and 1.83 WPPR points from his 4th place finish at the June meeting of the UK Pinball South West league. In total, Helmut earned 2.53 WPPR points and boosted him into now being the 4309th ranked player in the world.
Detailed rules for the $tern Rewards Program, including an updated list of qualifiers, and updated list of rewards available can be found HERE.