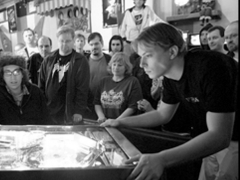 The IFPA is pleased to announce that our Player of the Month for July 2013 is former World Pinball Champion [player]Cayle George[/player] from Seattle, WA. Cayle earned 102.09 WPPR points in July. This included a vicorty at Super Multi-Brawl, 2nd place finish at the Midsummer Classic Pinball Tournament and 4th place finish in the Classics Division at California Extreme.
The rest of the top 5 for the month of July included [player]Bob Matthews[/player] from Thousand Oaks, CA with 95.20 WPPR points, [player]Robert Gagno[/player] from Canada with 75.22 WPPR points, [player]Julio Vicario Soriano[/player] from Spain with 73.60 WPPR points, and [player]Steven Bowden[/player] from Somerset, NJ with 72.81 WPPR points.
Congratulations to Cayle and the other top WPPR point earners of the month!