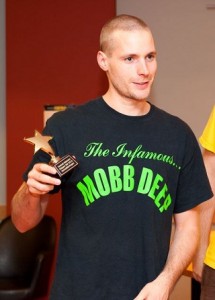 The 10th Swedish Championships since its resurrection in 2003 was held in Gothenburg and was the biggest to date with 226 participants.

Winner for the fourth time was Sweden´s finest: Jorian Engelbrektsson, who in the finals beat 2006 years champion Reidar Spets two games to nil on No Fear and Scared Stiff.
On his way to the gold Jorian showed some really impressive play, like in the semi finals when he went from 5 millions on his first ball on Corvette to over 7 billions on his second ball, or in the finals where his opponent Reidar had to face a 17 billon score on No Fear.

The Classics division was won by Mats Runsten (also for the fourth time), and the Split division was won by Magnus Rostö and Jörgen Boström.
Results in short:

Main
1) Jorian Engelbrektsson
2) Reidar Spets
3) Magnus Rostö
4) Per-Olof Romell

Classics
1) Mats Runsten
2) Jonas Henriksson
3) Henrik Lagercrantz
4) Mikael Telerud

Split
1) Magnus Rostö & Jörgen Boström
2) David Kjellberg & Henrik Björk
3) Frans Bergbom 6 Martin Tiljander
4) Henrik Tomson & Christian Balac
Full results are available HERE.