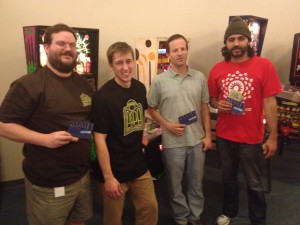 The inaugural season of the Lafayette Indiana Pinball League is complete! Graciously hosted at Main Street Amusements with 24 pinball machines AND growing (Transformers LE arrived the day after finals).
Our format was eight weeks of group play, with the 4 top players playing a 7 game group playoffs. The remaining 12 players played off through a double elimination best two out of three bracket. After losing to Tom, Terry managed to win the losers bracket to play Tom again in the final match. In order to win Terry needed to beat Tom twice, and that he did. Congratulations for [player]Terry Vandervate[/player] who won the bracket (5th)!
The main finals took about 4 hours, just slightly shorter than the bracket finals. Congratulations to [player]Brian Bauer[/player] (4th), [player]Ben Ashman[/player] (3rd), [player]Bob Skinner[/player] (2nd), and [player]Joe Said[/player] (1st)!
Many thanks to Dan St. John, prorietor extraordinaire, the IFPA, Mark and Kevin over at PAPA, and everyone who came out to play!