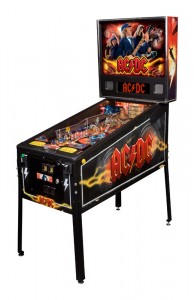 The AAMA and AMOA are once again teaming up to host the Amusement Expo. It will be held Wednesday, March 14th through Friday, March 16th, 2012 at the Las Vegas Convention Center. Details of the show can be found HERE. It's the place to be to see the latest and greatest from not only Stern Pinball, but other coin operated amusement companies.
IFPA staff will be on hand to run a tournament out of the Stern booth on Thursday, March 15th during show hours.. This will be a Pin-Golf format utilizing the machines within the Stern booth. Players that pre-register for the tournament will receive free entrance into the show (a $150 value). Contact the IFPA for additional details at ifpapinball@gmail.com, and to get on the registration list for a pass into the show.
Following the trade show, the 3rd Annual PinPin Plunge off Anti Drain Fest Pinball Tournament will be taking place Saturday, March 17th at the Pinball Hall of Fame. More details about that tournament can be found HERE.