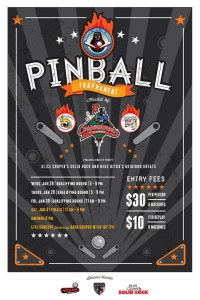 The IFPA is excited to be teaming up with Alice Cooper, Mike Ditka and Gridiron Greats Assistance Fund for a special Pinball Tournament during Super Bowl week at Alice Cooperstown! A portion of the proceeds will directly benefit Solid Rock and Gridiron Greats. If you want to compete, registration and qualifying rounds start Wednesday, January 28th at 5 p.m.! Winners will be awarded on Saturday night the 31st at 6 p.m. followed by a live concert with Dash Cooper and CO-OP!
The Gridiron Greats Assistance Fund (GGAF) is a non-stock, non-profit 501(c)(3) organization providing financial grants and 'pro bono' medical assistance to retired NFL players in dire need. The organization focuses on the humanitarian side of post-football related issues, which include coordination of social services to retired players who are in need due to a variety of reasons including inadequate disability and/or pensions.
Get behind Coach Ditka's Gridiron Greats Assistance Fund and "LIKE" Gridiron Support on Facebook at https://www.facebook.com/gridironsupport.org.