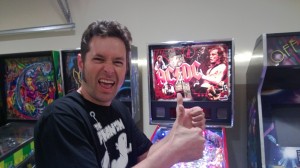 As one of the top 250 players in the World Pinball Player Rankings as of the end of 2012, [player]Tim Hansen[/player] from Sunnyvale, CA qualified himself for the IFPA's $tern Rewards Program. The $tern Rewards Program allows qualifiers to purchase a brand new Stern pinball machine at a special IFPA price. Tim redeemed his reward for an AC/DC Premium, which came with a certificate of authenticity signed by Gary Stern himself.
Tim finished ranked 49th in the world at the end of 2012, and has since moved himself up four spots to 45th with a victory at the Thirteen Thirteen Tournament back in January. With that performance along with a top 10 performance at the Battle of the Beach, Tim currently sits in 8th place in the IFPA California State Championship standings.
Congratulations to Tim, and remember if you're interested in qualifying for the $tern Rewards Program, check out the rules here.