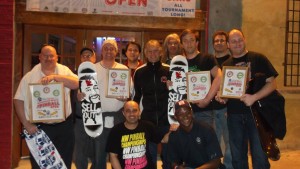 [player]Frank Romero[/player] wins the first annual Washington Heights Pinball Open tournament
With over 85 people registered, over 200 people in attendance, and a $2,000 prize pool, the 1st annual Washington Heights Pinball Open tournament was a big
success for New York City and debuted as a major east coast tournament. Open qualifying rounds were held all day Saturday, Dec. 3 (noon to midnight) on 6 machines (Lost World: Jurassic Park, Avatar, The Simpsons Pinball Party, Mars Trek, Earthshaker, and World Poker Tour). At the end of the day, the players with the top 4 scores on each machine qualified for playoff rounds held the next day. (Tiebreakers were used to ensure that 24 different people made it to the playoffs).
Players traveled from all over to participate, including New Jersey, Massachusetts, Pennsylvania, Colorado, Indiana and other parts of New York. Many local residents also showed up to watch, compete, and play some pinball after the tournament ended, including many children who were having a great time flipping the silver ball!
The tournament was held at the recently-opened Le Cheile restaurant on 181st St. by the George Washington Bridge. There was lots of press coverage (MTV videographers and local newspapers) and a variety of tournament sponsors, including Jarritos soda (who donated a lot of t-shirts and soda), Pabst Blue Ribbon beer (who donated lots more t-shirts, plus hats, bottle openers, bumper stickers, decals, and a beautiful longboard for the grand champion), Jersey Jack Pinball (who donated t-shirts, cool refrigerator magnets, bumper stickers, and a beautiful Wizard of Oz backglass poster), Reciprocal Skateboards of NYC (who donated some t-shirts and three limited-edition signed Morgan Spurlock skateboards for 2nd-4th place finishers), Stern Pinball (who donated a signed 3-dimensional Avatar translite), and Rock Fantasy of Middletown, NY (who donated t-shirts, pinball magnets, and other pinball prizes). Nobody left this tournament empty-handed!
The 3 tournament directors, [player]Dave Hollander[/player] (co-owner of Le Cheile), [player]Francesco La Rocca[/player], and [player]Steve Marsh[/player] worked hard together with the help of Joe Hofler (who made the gorgeous custom trophies and helped man the registration table), Allen Cihak (who provided 4 machines, with Steve Marsh providing 3 more), and [player]Eddie Cramer[/player] (who helped fine-tune the games) to make this the best pinball event in NYC in recent memory. Lots more people also helped during the tournament, including [player]Steve Epstein[/player] (IFPA Director/Founder), [player]Penni Epstein[/player] (no relation!), [player]Tony Caffrey[/player] (who helped move the games), and [player]Koi Morris[/player], [player]Alberto Santana[/player] who helped run things. Special thanks go out to the staff at Le Cheile who served up great food and drink all weekend!
The playoffs started at noon on Sunday, in a 'survival' format using random groupings and machine assignments. The lowest scorer on each game was eliminated (except for the first round, where the top 2 scorers on each game got a bye to round 2, and the remaining players were regrouped and the bottom 2 scorers in the next set of 4-player games were eliminated). The 8 final players each won cash prizes, ranging from $440 for 1st place to $100 for 8th place.
The top 4 finishers were: Grand Champion [player]Frank Romero[/player] of NY, who beat 2nd-place finisher [player]Ed Zeltmann[/player] of PA head-to-head on World Poker Tour, [player]Sam Thompson[/player] from Brooklyn who finished 3rd, and former IFPA and PAPA World Champion [player]Bowen Kerins[/player] of Boston, MA who finished in 4th place. These top 4 finishers each received a skateboard and a custom trophy that included real flippers and bumper caps in a clear-covered ash wood shadow box, with tournament poster graphics in the background. The 5th-8th place finishers received certificates, cash prizes, translites, and a grab bag of PBR items.
A "King of the Hill" charity side tournament was also held all weekend, where for $5 anybody could win a dinner for 2 at Le Cheile if they beat the KotH on Stern's 24 game. Thanks to the Kings of the Hill [player]Sean Grant[/player], [player]Alberto Santana[/player], [player]Bowen Kerins[/player], [player]Steven Bowden[/player], [player]Steve Zahler[/player], [player]Frank Romero[/player], [player]Francesco La Rocca[/player] and [player]Tim Tournay[/player] for providing the challenge in this charity contest. Over $600 was raised for Dolphin Park, a local toddlers' playground.
We're grateful to all the participants and everyone who supported this tournament and helped make it possible. Thank you all!!!