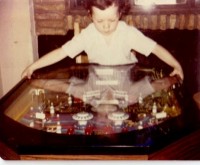 The IFPA is pleased to announce that our Player of the Month for December 2013 is [player]Andrei Massenkoff[/player] from San Francsico, CA. Andrei earned a total 127.23 WPPR points in December, winning the fall season of both the SFPD League and BAPA League. Andrei also swept the Main and Classics divisions at City Champ, and a 1st/2nd place finish in Main and Classics respectively at the Nutcracker Duel.
The rest of the top 5 for the month of December included [player]Eden Stamm[/player] from White Rock, BC, Canada, with 97.19 WPPR points, [player]Tatsunori Naruke[/player] from Japan with 96.06 WPPR points, [player]Joshua Henderson[/player] from Plainfield, IL with 90.26 WPPR points, and [player]Trent Augenstein[/player] from Delaware, OH with 86.23 WPPR points.
Congratulations to Andrei and the other top WPPR point earners of the month!