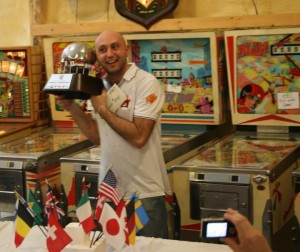 The IFPA is pleased to announce that our Player of the Month for March 2012 is former World Pinball Champion, [player]Daniele Celestino Acciari[/player] from Rocca di Papa, Italy. Daniele earned 131.38 WPPR points in March, finishing in 1st place at the Stern AC/DC Launch Party Tournament in Rome, 1st place at the Spring Pinball Tournament, 1st place in both the Main and Classics divisions at Pinb-Owls Nest 2012, along with a 2nd place and 5th place finish at the Les 24H Du Mans Flipper in the Main Tournament and Classics Tournament respectively in France.
The rest of the top 5 for the month of March included [player]Trent Augenstein[/player] of the US with 83.63 WPPR points, [player]Michael Trepp[/player] of Switzerland with 79.77 WPPR points, [player]Cayle George[/player] of the US with 72.54 WPPR points, and [player]Nick Zendejas[/player] of the US with 70.89 WPPR points.
Congratulations to Daniele and the other top WPPR point earners of the month!