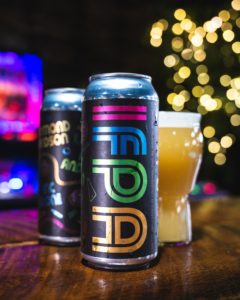 The IFPA (International Flipper Pinball Association) is on a mission to keep the pinball competition alive and nurture the hobby that we at Zen Studios also love so much. Join us in celebrating the organization and its best players with this unique beer design.
The team up between Zen Studios, the IFPA & Birdfish Brewing is aimed towards the pinball enthusiasts out there – people like ourselves. IFPA is a product of our dedication to pinball and Birdfish's beer experties, enjoy!
A super juicy, super hazy IPA showcases wonderful aromas of citrus fruit, lemon grass and slightly dank hops. I(F)PA features Columbus, Citra, Huell Melon and Mosaic hops on the hot side and is dry hopped with more Citra and Huell Melon hops, with the addition of Hallertau Blanc.
The result is a slightly dank IPA bursting with flavors including grapefruit, citrus, mango, passionfruit and honeydew that finish with a slightly spicy bitterness.
This is a limited edition collectible pinball themed beer
It is in IPA to let us play with the IFPA name, and has 7.4% ABV
It has 3 of the top IFPA players on the label
It will ship on the week of Nov 22 and only ships to US addresses
There are 2 other pinball themed beers still available.
A wheat beer with a pinball table on the design: https://rivalrybrews.com/collections/birdfish/products/birdfish-zen-hefeweizen
And an Oktoberfest lager with pinball people on the design: https://rivalrybrews.com/collections/birdfish/products/zen-marzen-exclusive-beer-box