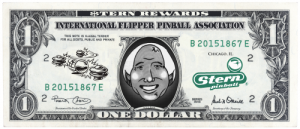 The IFPA is excited to announce that the following players have been now qualified for the $tern Rewards Program based on their August 2014 IFPA endorsed tournament performance! These players have until August 15th, 2015 to exercise their reward option.
PLAYER OF THE MONTH AWARD – [player]Roy Wils[/player]
Roy earned a total of 205.76 WPPR points in August. This included victories at the Pre-PAPA Kickback Tournament (Main and Classics) and Pre-PAPA Slovak Club Main Tournament. Roy also had a top 4 finish in both the Main and Classics tournaments at the Pre-PAPA New Great Valley Lanes Tournament, and a 10th place finish in the PAPA 17 World Pinball Championships A division, along with a 7th place finish in the Classics III division. Roy is currently the 5th ranked player for the Pennsylvania SCS, and is also currently qualified for Ohio(12th).
BIGGEST MOVER AWARD – [player]Jason Clark[/player]
Jason moved up 7185 spots by winning the August 2014 Fox Cities Pinball League. This netted Jason 2.34 WPPR points and moved him up to a rank of 5737th in the world. Jason also sits in 100th place in the Wisconsin SCS.
BIGGEST MOVER AWARD – [player]Tyler Huntington[/player]
Tyler moved up 6039 spots from his 8th place finish at the Brampton Pinball Extravaganza. Tyler earned 2.57 WPPR points which moved him up to a rank of 5326th in the world. Tyler also sits in 52nd place in the Onatiro PCS.
BIGGEST MOVER AWARD – [player]Ryan Pankratz[/player]
Ryan moved up 5701 spots from his performance at the Blainbrook, Mortimers and Silverball Saturday tournaments in August. These results netted Ryan 1.97 WPPR points for August, which moved him up to a rank of 5939th in the world. Ryan also sits in 31st place in the Minnesota SCS..
Detailed rules for the $tern Rewards Program, including an updated list of qualifiers, and updated list of rewards available can be found HERE.