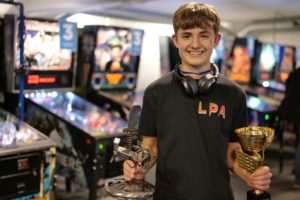 In the history of competitive pinball, very few (33 in fact) have had the chance to call themselves a Major Champion. Like professional golf or tennis, the opportunity to join this elite club only happens a handful of times every year. THE 2022 European Pinball Championship brought together two finalists looking to add their name to this list (Arvid Flygare and Peter Andersen) and two finalists looking to add to their already established legacies (Cayle George – 2-time Major Champion, 11-time Major Finalist and Johannes Ostermeier – 1-time Major Champion, 2-time Major Finalist).
In a clutch walk off 7-way loop combo on The Shadow, Arvid Flygare defeated Johannes Ostermeier 3 games to 1, becoming the latest player to be crowned a Major Champion, and the 34th player in competitive pinball history to win a Major Championship.
With his 2nd place finish, Johannes earned his 3rd top 4 finish in Major Championships. 3rd place went to Cayle George who earned his 12th top 4 finish in Major Championships (tied for 2nd most all time). 4th place went to Peter Andersen who earned his 2nd top 4 finish in Major Championships.
To view the most current list of Major Championship stats, click HERE.