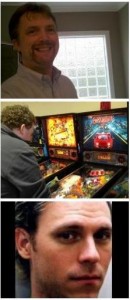 The IFPA is pleased to announce that the following players saw the biggest jump in their world ranking based on their April 2013 tournament performance.
The biggest movers for April 2013 included [player]Tony Pierce[/player] from Thomasville, NC, who moved up 6318 spots by earning 2.97 WPPR points from his 10th place finish at the Outer Banks Pinfest, as well as .91 WPPR points from his 4th place finish at the April Lost Ark Monthly Pinball Tournament. This moved Tony up to the 3404th ranked player in the world. Currently Tony is sitting in 19th place in the IFPA North Carolina State Championship standings.
[player]Aaron Williams[/player] from Murfreesboro, TN moved up 5363 spots from his victory at the April session of the Middle Tennessee Pinball League. Aaron earned 5.02 WPPR points for the victory, which has moved him up to a rank of 2801st in the world. Currently Aaron is sitting in 2nd place in the IFPA Tennessee State Championship standings.
[player]David Spake[/player] from Atlanta, GA moved up 4913 spots from his 6th place finish at the Souther Fried Pinball Tournament. This netted David 9.55 WPPR points and boosted him into now being the 2043rd ranked player in the world.
Congratulations to Tony, Aaron and David, as well as the other players that saw a jump in their ranking from their April tournament performance!