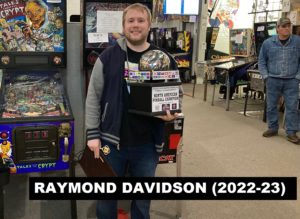 53 finalists for the IFPA North American Pinball Championship began competing at 10am and continued nonstop until past 10pm when the winners were crowned.
Huge congratulations to the new IFPA North American Pinball Champion, Raymond Davidson! Raymond defeated the representatives from Missouri (Steve Hill), Ohio (Stephen Prusa), North Carolina (Kaylee Campbell), Michigan (Jared August) and finally 2-time Major Champion and current World #1 Escher Lefkoff representing Wisconsin to capture the crown.
Congrats to Raymond who becomes the first 2-time North American Champion! They have been added to the IFPA Hall of Fame!