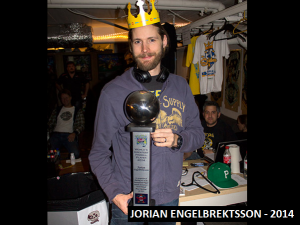 The IFPA is proud to announce that [player]Jorian Engelbrektsson[/player] has finished at #1 on the World Pinball Player Rankings, thus earning IFPA's top honor as the 2015 "World's Greatest Pinball Player". No single tournament victory will ever secure this title for a given year. Only consistent play at the highest level over the course of multiple years leads to players reaching the pinnacle of the World Pinball Player Rankings. This is the 3rd time that Jorian has been crowned the World's Greatest Pinball Player, having earned it back in 2009 and 2014.
Jorian's greatest achievement of 2015 was being crowned European Pinball Champion at EPC2015 in Belgium, while finishing in the top 10 of all 4 Major Championships in 2015 (3rd at IFPA12, 5th at PAPA18 and 9th at Pinburgh 2015). Jorian held the #1 nearly wire to wire in 2015 minus a brief stint at #2 after Keith Elwin won PAPA18. Besides his win at EPC2015, Jorian won the 2015 PAPA Circuit and earned victories at the Swedish Pinball Open Classics Tournament and the Swiss Open Main Tournament.
Overall, Jorian won 23% of the 22 events he played in, while placing in the top 4 at 55% of his 2014 events, a truly remarkable achievement. Jorian will be given his award at the IFPA13 World Pinball Championship, scheduled for April 12-14, 2016 in Pittsburgh. Congratulations to Jorian, and best of luck to everyone on the upcoming 2016 season in the race for #1.