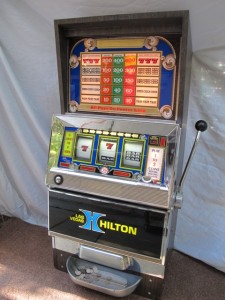 ​The FWTG Pinball League is offering up another beautiful Classic Slot Machine (courtesy of Peters Billiards) to be given away on Monday October 6.
This Vintage Slot will be awarded to a lucky FWTG League participant selected at random from the League (NFL) Division that gains the most new IFPA League Players before Oct 6th @ 9 pm CST.
Winning player will be responsible for any shipping charges (we will help coordinate a wholesale carrier), or the machine can be available for pick up in the Minneapolis or Chicago areas.
As an alternative prize, Gridiron Support is offering a set of (5) GGAF Hall of Fame Medallions with matching serial numbers, if the winning player declines the slot machine as their prize.